Is your company going to take part in a trade fair? Are you wondering how to effectively present your stand so that everybody remembers you? Find out which advertisements are worth investing in!
What advertisements to choose for a trade fair?
Possibilities are endless. But first and foremost, you need to have an aesthetically pleasing trade fair stand which is conspicuous and draws customers' attention. Vivid colors and captivating design will surely catch people's eye. Equip yourself with advertising flags and beachflags in order to make your stand even more noticeable. This is a perfect method to mark your stand at the fair. The advertising products we are discussing are resistant to severe weather conditions such as UV radiation, rain, frost and scorching sun, therefore, they will work well at outdoor fairs as well. These accessories are robust and durable and can be used not only at fairs but also at various events organized by your company such as open days, picnics or festivals.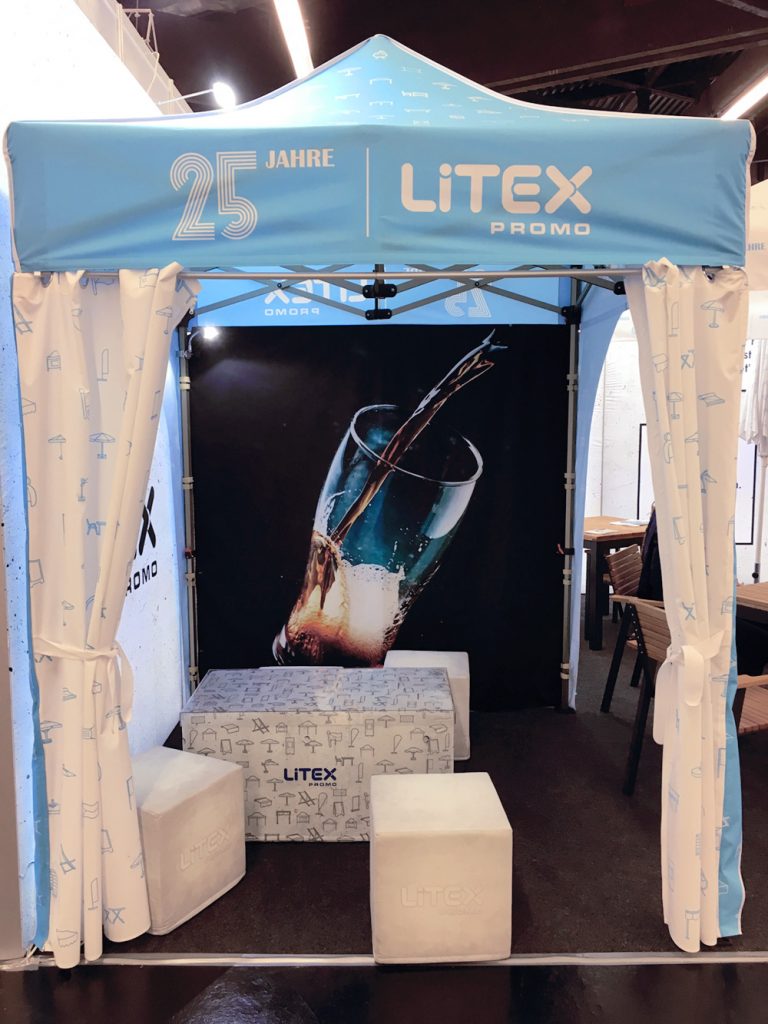 Moreover, the fair stand can be equipped with various types of banners with professional graphics, advertising textiles (aprons, tablecloths, pillows) and furniture (e.g. deck chairs with imprints). These types of advertising products, with printed name, logo or other form of advertising, are perfect for promoting brand at trade fairs. The choice of advertising methods of your stand highly depends on the location of the fair trade, available stand space and the rules governing the event. You should check and think everything out beforehand, bearing in mind the proper planning of the fair trade budget which will allow you to select the right advertising.
Preparing business cards, leaflets and catalogues for people attending the fair trade is another important step. Consider offering various gadgets – after all, everyone loves getting small gifts. Go for something more original than standard personalized advertising candies, bags or t-shirts with imprints. Try to learn as much as possible about the visitors and their characteristics before the fair trade, prepare accessories or activities that will draw their attention and ensure that your company will be remembered for a long time.
Remember that during a fair trade both the products you sell and the way you do it are equally important. Smile, be positive and kind to your potential customers. This is a real key to success. People representing your company at fair trades should be open, committed and familiar with products or services on your offer. This will allow them to comprehensively answer all difficult customers' questions.
What more you need to keep in mind when promoting your company at a fair trade?
Before choosing and ordering advertisements for your fair trade stand, you need to familiarize yourself with the rules governing the event and to check whether organizers didn't introduce any restrictions or whether the fair trade formula doesn't specifically precise the way the companies should be presented. In case you have any doubts, it is always better to email or phone the organizers. Very often it happens that some of the advertising forms are paid and unless you purchase the right to additional services, it is forbidden to perform any promoting activities outside the stand or building and near to the entrance. Unfortunately, in a situation when you haven't bought these additional services, the security has a full right to confiscate your advertising materials and give them back to you only when the fair trade ends. Remember not to be selfish. Exposing your stand at all costs will affect your relationships with other fair trade members. A pleasant atmosphere and prospect of cooperating with other entrepreneurs is much more important than being the most noticeable. After all, making new business contacts is one of the main objectives of fair trades, obviously, along with acquiring new potential customers.