Advertising tents are effective promotional tools suitable for various outdoor events such as festivals, concerts, trade shows or sports competitions. Nevertheless, in order to maximize their possibilities, it's necessary to pay special attention to graphics and prints on the tents. What to keep in mind when designing your patterns? Let's delve into the subject!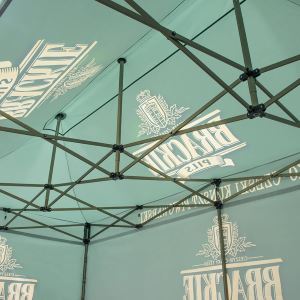 Determine the intended use of your advertising tent
Before you start designing your advertising tent, it's crucial to determine its intended application. Is it prepared for a specific event or do you want it to be versatile? If the tent is supposed to serve you on various occasions, it's advisable to choose a generic graphic with your company name and logo. On the other hand, if you're getting ready only for a particular event, it's a good idea to tailor your tent to the character and theme of the situation.
Expose your brand name
Depending on the construction type, advertising tents offer an impressive space for promotional content as graphics can be placed on the roofs, walls and farigins. However, keep in mind that your tent will be observed from different perspectives – some people will see it from far away, whereas others will pass it by very closely. Therefore, it's crucial to tailor the message to all circumstances, thanks to which you'll be able to reach both groups. It's worth placing a company name or logo on the roof. On the other hand, walls and fairings are ideal for smaller components such as a website address visible from a closer distance.
Select appealing and consistent shades
The color palette you choose really matters – it helps to attract recipients and evoke particular emotions. Therefore, take advantage of this information and avoid tent designs with prints on a white background. Obviously, it's better to select colors that correspond to your brand image and are consistent with other advertising materials distributed during the event. Apart from making you look more professional, it'll also help recipients remember your booth.
Let people find you
Company names, logos and slogans are the most popular elements placed on advertising tents with prints. However, it's a good idea to complement the design with additional pieces of information that will make it easier for passers-by to find your business online. Why don't you provide your contact number, website address, names of your social media profiles or a QR code that would redirect people to the abovementioned platforms?
Stay moderate
It's totally understandable that when designing an advertising tent you want to maximally benefit from its possibilities and provide as much data as you can. However, it's worth making sure that you stay moderate because recipients may feel overwhelmed with too much information and, consequently, the message itself can become unclear.
Commission the task to an experienced company
It should be borne in mind that coming up with a quality design is only one step in the process of creating advertising tents. Choosing a company that will bring your ideas to life in a professional way is another important decision. Therefore, it's worth selecting services of an experienced company that deals with similar tasks on a daily basis. Some businesses offer their own configurators that help to design prints and then specialists point out key technical elements that have an impact on the final look of the tent.