It might seem that various forms of outdoor advertisements became a relic of the past in the era of the omnipresent Internet and social media. However, that's totally untrue! Advertising banners remain one of the most popular promotional tools which can be seen when going for a walk or driving somewhere. The competition is quite sizable, therefore, it's worth finding out how to design a quality advertising banner that will catch the eye of potential customers.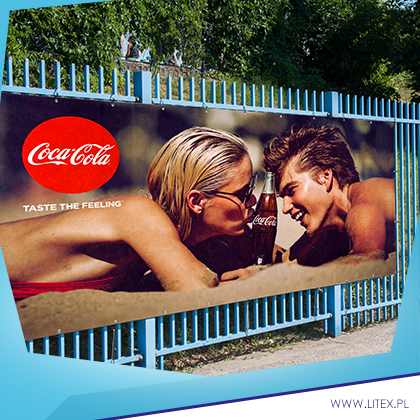 How to design an advertising banner that attracts the attention?
A well-designed advertising banner is supposed to attract the attention of passers-by. This can be achieved thanks to the selection of appropriate, contrasting colors. A concise and catchy slogan is another important element. Combining it with humorous content that stays in recipients' minds for longer is a key to success.
Place your company name, logo and selected contact details such as phone number or website address on the banner. Thanks to it, the interested users will be able to easily access information about your business, services or products. Remember that before designing your advertising banner, you should know its format. Even small changes in the size or proportions of the project may have a negative impact on the layout and disrupt your concept. Obviously, if you want to ensure professional and aesthetic design, consider taking advantage of services offered by an experienced agency or graphic designer.
Advertising banners – how to catch the eye?
How to make an advertising banner for outside? Don't use too many elements – a cluttered project won't be legible, moreover, it may overwhelm potential recipients. Go for simple, minimalistic designs that clearly communicate the message. Keep in mind that drivers or passers-by usually have only a couple of seconds to take a look at the banner and its content.
Therefore, you should facilitate their task. Although we associate CTAs mainly with online advertisements, it's still worth placing an appropriate Call To Action also on your outdoor advertising banner. Choose simple, yet clear slogans that will encourage recipients to take specific action – "take part", "buy now", "call" or "check out".
Make your message consistent
How to design an advertising banner that attracts people's attention? Obviously, a quality banner should match the overall image of the company. So, use fonts and colors you normally apply in other advertising materials such as leaflets, posters, business cards or social media posts. Thanks to it, you'll create consistent and harmonious communication in all channels and your recipients will remember characteristic features of your brand.
Choose convenient location
Remember that designing a visually appealing advertising banner is just the beginning of your work. The second, more important part, involves finding an appropriate place for your project. This is so crucial due to the fact that the location of advertising banners frequently determines their effectiveness. Select places with a lot of pedestrians or cars as this way you significantly increase the number of potential recipients of your message. At the same time, avoid locations next to highways as people driving at high speed aren't able to absorb a lot of information.