Advertising tents are one of the most popular advertising products chosen by companies which want to promote their businesses in the open air. They're a perfect solution for all kinds of outdoor events, moreover, for many they're also an integral part of beer and restaurant garden's equipment. Due to the fact that these models are exposed to numerous external factors, it's crucial to protect them properly from wind, rain and snow. How to appropriately secure a pop up tent? Keep reading!
Professional tent security
Keep in mind that potential tent protection against external factors is already predetermined when you make the purchase as it's related to the materials used in the manufacturing process. Innovative and durable fabrics provide the finest protection against severe weather conditions such as rain, snow or intense sun.
Therefore, it's worth choosing professional advertising tents made of top quality, reliable fabrics. Outdoor events are frequently associated with rapidly changing weather conditions, consequently, it's advisable to make sure that tents can be secured with extra elements like special walls quickly attached to the structure to protect the inside of the tent against intense rain or snow. High wind turns out to be one of the greatest challenges faced by advertising tents. That's why, extra protection measures and fixing methods are so important.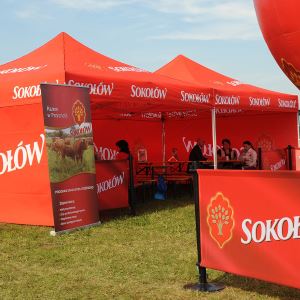 Obviously, you should keep in mind that possible ways to secure the tent are strongly affected by its location – a soft ground such as grass will require completely different solutions than asphalt.
How to secure an advertising tent on soft ground?
Advertising tents are frequently used during events that take place in parks, on stadiums and sports fields. In this case, they're often placed on soft grounds like grass. Tents are usually secured with the use of special pins and pegs attached to the ground that work similarly to pegs applied on camping sites. If extra protection against high winds is needed, the tent can also be secured with ropes and anchors.
How to secure a tent on hard ground?
Many people use advertising tents during events that take place on hard grounds such as asphalt or concrete. How to secure a tent in that situation? Most often, special weights made of cast-iron or filled with water and sand are attached to the legs of the tent.
Secure your tent against theft
Unfavorable weather conditions are not the only obstacles faced by advertising tents and their owners. It should also be borne in mind that these pieces of equipment can easily be stolen. So how to secure a tent against theft? First of all, you should ensure its proper load as stealing a heavy construction is more challenging. For this purpose, you can use water, sand or cast-iron weights. On the other hand, if a given event lasts a few days and the tent is left on the premises also during the night, make sure that it's tightly closed – use special walls that can be attached to the tent to close the entrance.