Holidays are a perfect time to relax. Chilling out in the sun is a great form of recharging batteries. Thanks to it, you can not only forget about your everyday duties but also soak up the sun and get a little bit tanned. For entrepreneurs operating in the tourism industry, summer is the most busy time. They have to take care of the needs of these clients who have decided to benefit from their offer and discourage others from taking advantage of the services offered by other companies in the market.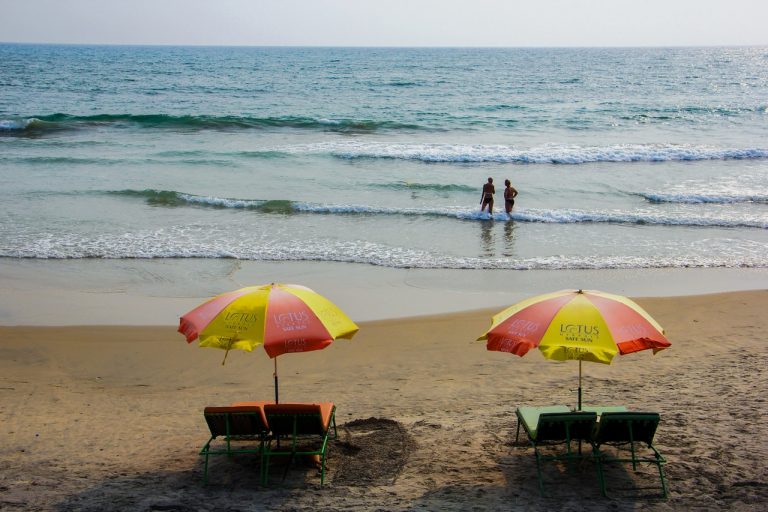 So where to advertise in popular tourist resorts? Obviously on the beach! But how to fully benefit from the potential of a public space that can't be suited entirely to your preferences? And what to do if you've a private beach and want to create a client-friendly spot? If you want to learn the answers to these questions you're in the right place. Take advantage of our expertise gained over years of operation in the advertising industry.
Owning a piece of a private beach? Create a spot for your guests and clients
One can be stated for sure – private water reservoirs are a perfect solution for all tourist resorts that do their best to attract clients during the summer season. So how to benefit from this asset? Obviously you can choose a more budget option and offer only a bridge and a few waterbike attractions or a play area for children. However, it's also worth investing in creating a luxurious place for the most demanding visitors. What will you need? Deck chairs and parasols are real must-haves. The necessary number of these products is determined by the size of your resort. Every visitor of a 150 person accommodation should be provided with a separate place on the beach.
Side Leg RIO is an excellent parasol available at Litex. As the name itself suggests, this model has a side leg and a 3×3 m canopy so it's perfect to protect two deck chairs against sun or rain. Thanks to the possibility to choose a print on the parasol, you can freely advertise your business or benefit from the cooperation with other advertisers.

Beachflags as a means of attracting clients' attention
Does your catering or service facility located near the beach offer discounts for new or regular clients? Interested people won't come unless they know about it. Reach them with the use of the simplest and at the same time most effective methods. As far as tourist resorts are concerned, online advertising isn't the most appropriate solution. On the other hand, conventional forms of local marketing do really well. This can be evidenced by banners, beachflags and adverts densely placed in each corner of the resort area.
How to design a chic and eye-catching beachflag?
Actually, it's a piece of cake! You can either implement your own project designed with the use of a graphic software (this will be rather infeasible without appropriate knowledge, experience and skills) or take advantage of services offered by specialists. A professional constantly following and creating trends in the marketing industry will certainly design and create an advertising beachflag that will meet all your expectations.
Which beachflag model to choose?
If you're looking for portable beachflags that can be easily placed on the beach or boulevards, check out the product range offered at Litex. Our beachflags come in various colours and sizes. Apart from the textile advertising medium, you'll also get a frame to be mounted on one of the dedicated bases, tailored to the ground on which you want to place your beachflag.
Get familiar with our offer to choose the model and shape that best suits your needs. Products on our range are characterized by excellent resistance to various weather conditions and UV radiation thanks to which they can be safely placed on the beach.