Garden and restaurant parasols are ideal for spring and summer seasons as they provide a comfortable and shaded place to unwind in the open air. They protect customers and guests from wind, rain and strong UV radiation. However, the arrival of slightly cooler weather triggers many changes of outdoor conditions. Therefore, it is essential to take proper care of garden and restaurant parasols to ensure that they will serve you for many years. So what to pay particular attention to? Let's check it out!
Protection of restaurant and garden parasols
You probably already know that modern garden and restaurant parasols are manufactured from special fabrics which are highly resistant to diverse weather conditions. Nevertheless, it still should be borne in mind that these products are dedicated mainly for warmer months. Consequently, it's extremely important to protect them appropriately during autumn and winter seasons. If you want your parasols to serve you for many years, don't leave them outside without any protection, otherwise the fabrics may fade or get damaged.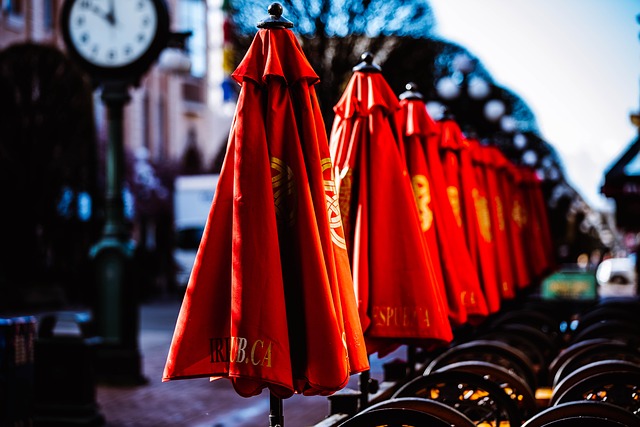 Garden and restaurant parasol storage
In most cases garden and restaurant parasols are made of the same fabrics, therefore, it's possible to treat them equally, also when it comes to the autumn and winter protection. One of the methods of storing garden and restaurant parasols during cooler months involves placing them in spaces like attics, garages or basements. However, before doing it, it's necessary to make sure that there is no mould or dampness as these two factors can quickly damage the fabrics. Moreover, sizeable parasols are very often quite heavy and transporting them on one's own may not be a piece of cake. In this situation, it's great to have another person willing to assist you.
Modern parasol covers
It's also possible to benefit from another method and use dedicated garden or restaurant parasol covers as soon as the winter or autumn season begins. These products are made of polyester fabrics, known for their high resistance to mechanical damage and pollutants. As a result, the parasol fabric is effectively protected not only from rain, snow and UV radiation, but also from dirt, dust and dampness. Most covers are equipped with welts which make it possible to adjust the protective fabric to the folded parasol even more precisely. You can also attach small weights to the cover to ensure greater protection. If you want to find the most suitable cover, start from checking out the offer of your parasols' manufacturer. It may turn out that this product range includes ideally suited protective parasol covers. Apart from the size of your parasol, take into consideration its design and type. Covers for side leg products will significantly differ from covers for classic models.
Parasol washing and cleaning after the spring-summer season
Regardless of the chosen method of restaurant and garden parasol protection, it's necessary to thoroughly clean the products after the summer season. Ensuring that the fabric is washed makes it easier to prevent stains. Moreover, at the beginning of the new garden season, your parasols will be ready to be used. One more thing, before storing and folding the parasols, make sure that they are completely dry, this will allow you to avoid unpleasant dampness.